SeaWorld Orlando's New Mobile App Transforms the Park Experience
|
SeaWorld Orlando has just released a new mobile app, and it's transforming the guest experience.
SeaWorld Orlando has had a mobile app for several years, but the previous version was limited in its functionality. This new release is a brand-new experience loaded with features SeaWorld guests have been asking for, like digital ticketing, interactive maps, trip planning tools, and more.
The app is powerful and responsive, providing a legitimately useful set of features that any park-goer can benefit from.
Main Features of the New SeaWorld Orlando Mobile App
SeaWorld's new app unlocks tons of functionality, both while you're at the park and before you arrive. Most features are divided into three sections: Guide, My Visit, and Maps.
Guide
The Guide section of the app is where you'll plan your day at SeaWorld Orlando. Even before you arrive, you can start checking out the park's hours for the day and explore the various amenities that SeaWorld has to offer.
Explore the various animal experiences and presentations, along with special events. Of course, you can check out the rides and dining options as well. You can even explore menus at select dining locations and find out what to do if a member of your party has food allergy concerns.
Also, within the Guide section, you can book tours for certain experiences on the day of your visit. You can also see showtimes to help you plan.
When logged in with a ticket already purchased, you can upgrade your SeaWorld experience from within the app. Add Quick Queue, All Day Dining, or even reserved show seating — all from the app. That's right — no more waiting at the park to take care of these add-ons, which means more time having fun!
Tapping on a ride in the Guide tab brings up all sorts of helpful information, like height requirements, ride type, and information about extra fees (for the few rides that require them). Family-friendly rides also include IBCCES Sensory Guide data to help you plan appropriate experiences for every child.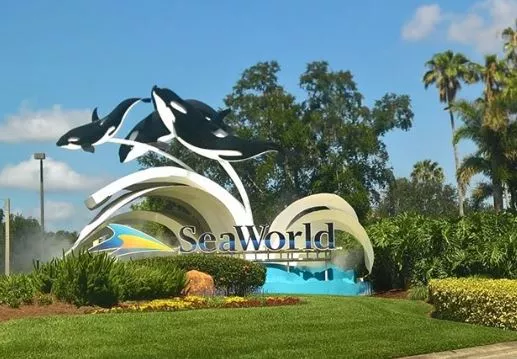 Of course, the SeaWorld experience isn't limited to just Orlando, and neither is the app. If you're visiting SeaWorld San Diego or SeaWorld San Antonio, you can toggle to customized experiences for those parks at the top of the Guide tab. Just tap the down arrow next to SeaWorld Orlando and select your park to be transported to the right set of info and maps.
But what should I not miss at SeaWorld Orlando? The app can definitely help you there too:
My Visit
Ticket holders can use My Visit as their digital wallet for all things SeaWorld. With My Visit, you can:
Scan a barcode for park entry
Access your Annual Passes and related discount barcodes
View and redeem other purchases
Just about anything ticket- or payment-related can be handled from your phone, from within the My Visit section.
Maps
The classic paper theme park map gets a massive, interactive upgrade in SeaWorld Orlando's new app. Paper maps have long been a staple for park guests, helping them navigate the various exhibits and themed areas. But paper maps in central Florida? They get soggy fast. Not only that, but they're also impossible to keep up to date with the latest changes.
SeaWorld's digital map is a huge upgrade. You can see your location on the park map in real-time, allowing you to quickly orient yourself at any point. The map is also searchable, so you can type in "Kraken" and figure out exactly which direction to head.
You can zoom in and out and use filters to display specific types of events. Tap "Shows" to see pop-up indicators for all shows in the park, then tap any indicator for more info (including showtimes if applicable). You can even tap the "Directions" button from that pop-up to get step-by-step walking directions from your current location. It's like Google Maps, but at SeaWorld!
For SeaWorld novices and veterans alike, the Maps feature is a powerful addition to anyone's SeaWorld experience, and it's offered free of charge within the free SeaWorld app for Android and iOS.
How to Get the Most Out of the New SeaWorld App
The new SeaWorld app adds so much functionality that it can be hard to know where to start in getting the maximum benefit out of the app. Here are a few tips for getting the most out of the app — and out of your park visit, too.
Plan Your Route in Advance
If you've been to a few theme parks before, you're surely familiar with The Huddle—though maybe not by that name. The Huddle is when families or groups of friends huddle up in the park, trying to figure out where to go next or what to do. A couple in the group want to catch a show, but that might mean missing a big-ticket ride entirely. Groups spend precious park time deciding (or arguing about) what to do next — rather than doing it.
With the SeaWorld app, The Huddle is 100% avoidable. Spend time with the map and the show and event schedules in the weeks before your trip. You can plan your route in advance, maximizing the fun you have while at SeaWorld and reducing or even eliminating time lost to The Huddle.
Pick Your Add-Ons and Buy Them Early
Chances are, if you're planning to buy add-ons like Quick Queue or All-Day Dining, you know you want to do this before you enter the park gates. And with the app, you can. Don't lose park time waiting in line and working through the add-on process. Do it in the weeks prior to your trip instead. That way, when you arrive, you can walk straight to the front of the line (or to your favorite dining venue).
Build Your Day Around the Shows You Want to See
Shows and experiences are a big part of why guests come to SeaWorld. But it takes planning to lay out an itinerary that puts you in the right part of the park at the right time. And this can be even trickier if showtimes change as the season progresses.
Now, you can use the SeaWorld app to learn exactly when and where the shows and animal experiences will be. Use this powerful feature to build your perfect SeaWorld day around the shows you want to see most.
Plan Your Meal Stops
Theme Park dining can be tricky if you go in unprepared — especially with picky kids or dietary restrictions. Use the SeaWorld app to plan your meal stops and learn more about the offerings at each dining location.
If you're planning a SeaWorld visit soon, make sure to check out the app before you go. You'll get more out of your trip by planning, and you can use the app to help you navigate the park once you arrive.